Sat 25 January 2020 14:00-16:00
5th Annual Wassail in Addiscombe Railway Park
Hosted by Addiscombe Railway Park Friends
Addiscombe Railway Park
East India Way or Burnham Gardens
Croydon, United Kingdom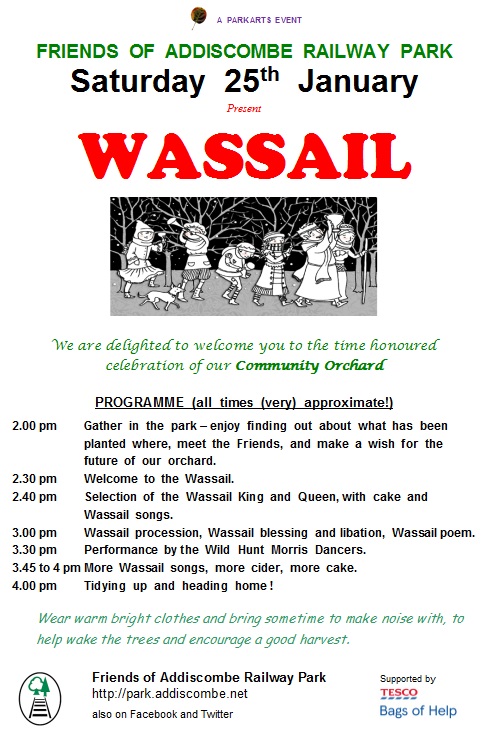 Fri 20 December 2019 18:15-21:30
The Lock In 'Christmas Carol' with The Demon Barbers
Stanley Halls
12 South Norwood Hill
London SE25 6AB
'The Lock In Dance Show' Facebook event
Tue 19th November 2019 at 8.30pm
Open Evening
Come and meet the people behind the masks have a chat and join in our informal workshop. No experience necessary as we will start from basics and guide you through learning one of our dances.
8.30pm
The Scout Hut
113-115 St James's Road,
Croydon
CR0 2UZ
Witchfest International 2019
Fairfield Halls,
Park Lane,
Croydon,
London
CR9 1DG
Wild Hunt Day of Dance
This year's Day of Dance is at the Olympic Park. Our friends Rampant Rooster will be joining us to celebrate our 28th birthday. Come and join the fun!
11:00-11:45 The 2012 Gardens
12:00-12:45 Mandeville Place by Carpenters Road Lock
14:30-15:15 Beside the 2012 Walk opposite Tallow Bridge
15:30-16:15 The 2012 Gardens
Addiscombe Night of Dance
Croydon
The Woodman
Woodmansterne Street,
SM73
Banstead
Guests of Phoenix Clog
Pub stand with Rampant Rooster
8pm, The Plough, Leigh

Facebook event
Kingston Morris Midsummer Evening of Dance, Twickenham
8pm, The Fox, Coulsdon Common, CR3 5QS Caterham
8pm Crown and Sceptre
32 Junction Road, CR2 6RB Croydon
8pm The Harrow
309 Farleigh Road, CR6 9EL Warlingham
Rochester Sweeps Festival
Tour of Croydon
Ewell St Mary's Morris Men
The Woodman
Orchard Morris Workshop and Border Tour
St George's Day at The Builders Arms, Croydon
Guests of Old Palace Clog "At Home, Morris Extravaganza"
Addiscombe Railway Park Wassail
Tue 18th Sep 2018 at 20:30
Wild Hunt Open Evening
Would you like to give Morris dancing a go? Become more fit, make new friends, go to festivals and other exciting events? Come along!
The Scout Hut,
113/115 St James's Road,
Croydon CR0 2UZ
Wild Hunt Day Of Dance
Dancing with:
Dead Horse and The Broomdashers
OldPalace Clog
Phoenix Morris
Rampant Rooster
London Bankside
Sovereign Harbour Yacht Club
Harbour Quay/Waterfront Area of Sovereign Harbour
Eastbourne
Croydon Night of Dance
The Oval and The Builders, Croydon
Wild Hunt at CNOD Facebook event
The Oval Tavern
Dancing from 8pm onwards
Dead Horse Ale, Whitstable
All day
The Woodman, Banstead
As guests of Phoenix Clog
Dave Watmore memorial pub stand
Dave was a former member of The Wild Hunt.
The Abinger Hatch, Abinger near Dorking
Hosted by Spring Grove Morris Men
With several other guest sides
Sandwich Folk And Ale Festival
Sandwich Folk and Ale Festival page
All Day
With Black Swan Morris
The Fox, Coulsdon
Coulsdon Common, CR3 5QS Caterham
8pm onwards
Wild Hunt Summer Solstice
Addington Hills
Shirley Hills Road (signposted to Royal Garden restaurant)
Croydon
The Sportsman, Mogador
As guests of Rampant Rooster
8pm onwards
The Builders Arms
Leslie Park Rd, Croydon CR0 6TP
8pm onwards
Wild Hunt Croydon Tour
Mon May 7th 2018
1pm-2.30pm The Oval Tavern
3pm-3.30pm The Dog and Bull, Surrey Street
3.30pm-4.30pm Surrey Street near the Market Tavern
Croydon, Surrey
Rochester Sweeps
Sat May 5th 2018
Rochester, Kent
Frost Van Doorn FestAs guests of Royal Liberty
The Three Horseshoes, Molehill Green, Takeley, CM22 6PQ
Wild Hunt at Orchard Morris Tour of Dorking
Dorking
Addiscombe Railway Park Wassail
Addiscombe Railway Park, Croydon
Christmas Ceilidh
Hosted by Folk Of The Wood
Portico Gallery, 23a Knights Hill, London. SE27 0HS
Wild Hunt at The Burning of the Sticks
The Royal Oak
Brockham Green, RH3 7JS Dorking
Wild Hunt at Haling Grove Hallowe'en
Haling Grove, South Croydon, CR2 6BN